About Us
Chancellor's Associates catalyze nontradition at UC San Diego. In partnership with Chancellor Pradeep K. Khosla, we continually advance access to higher education, through our scholarship program, with fundraising that has generated over $6 million since 2013 and provided over 1,000 scholarships. Through annual gifts and endowment initiatives (including this year's game-changing Chancellor's Associates Endowment Challenge, which offers a $1 million match), we provide the philanthropic support that breaks boundaries and levels the playing field for aspiring learners — in short, we change lives. And we stand ready to make even more academic dreams take flight with your help.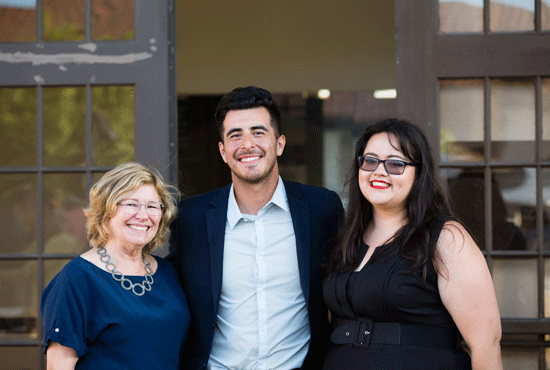 Our Priorities
Scholarships
More than 800 Chancellor's Associates Scholars are currently in our program, but additional awards await funding. Many of our community's brightest standouts will be able to attend UC San Diego only if they have support from visionary philanthropists like you. Help us open academic doors and change even more lives.
Student Success
From day one, our awardees have access to support services geared toward their long-term success, through the Chancellor's Associates Scholars Program (CASP). We want every one of this year's 293 incoming students to thrive, on campus and beyond.
Tritons Tackling the 2020 Presidential Election
Living in a COVID-19 reality has changed our world and made us question everything we know – and that includes the upcoming Presidential election. Join UC San Diego Alumni and Chancellor's Associates, on July 8 at 12pm, to explore what's ahead for November, as we are joined by political expert and author Thad Kousser, Chair, Department of Political Science at UC San Diego, in conversation with Chancellor's Associates Scholar and UCDC program alumnus, José Luz González '20, who recently graduated with a degree in Public Health. Dean Carol Padden, MA '80, PhD '83, from the Division of Social Sciences will introduce our program, and Jerri Malana '86, incoming Chair of Chancellor's Associates and a member of the Alumni board of Directors, will moderate. The conversation will cover burning election topics, such as the use of social media, interest group influence, and the voting process and outcomes. Submit your questions in advance to help frame the discussion, or contribute them during the live event. More information by clicking the button below.