About Us
Chancellor's Associates catalyze nontradition at UC San Diego. In partnership with Chancellor Pradeep K. Khosla, we continually advance access to higher education, through our scholarship program, with fundraising that has generated over $8 million since 2013 and provided over 1,400 scholarships. Through annual gifts and endowment initiatives (including this year's game-changing Chancellor's Associates Endowment Challenge, which offers a $1 million match), we provide the philanthropic support that breaks boundaries and levels the playing field for aspiring learners — in short, we change lives. And we stand ready to make even more academic dreams take flight with your help.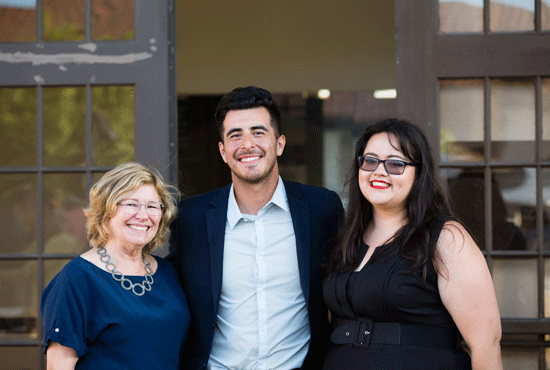 Our Priorities
Scholarships
More than 800 Chancellor's Associates Scholars are currently in our program, but additional awards await funding. Many of our community's brightest standouts will be able to attend UC San Diego only if they have support from visionary philanthropists like you. Help us open academic doors and change even more lives.
Student Success
From day one, our awardees have access to support services geared toward their long-term success, through the Chancellor's Associates Scholars Program (CASP). We want every one of this year's 380 incoming students to thrive, on campus and beyond.
Chancellor's Associates Virtual Colloquium
Join us on Monday, October 5th, at noon, for a virtual colloquium featuring Professor Nicole Steinmetz. Viruses: villains or superheroes? Professor Nicole Steinmetz will discuss her innovative research on using plant viruses as a new treatment for cancer. Her lab is actively working to re-engineer and re-purpose plant viruses for human health. From breast, ovarian, and brain cancer to COVID-19, learn how we can help fight off illness through accessing mother nature. RSVP link on our events calendar page.