Faculty Excellence Awards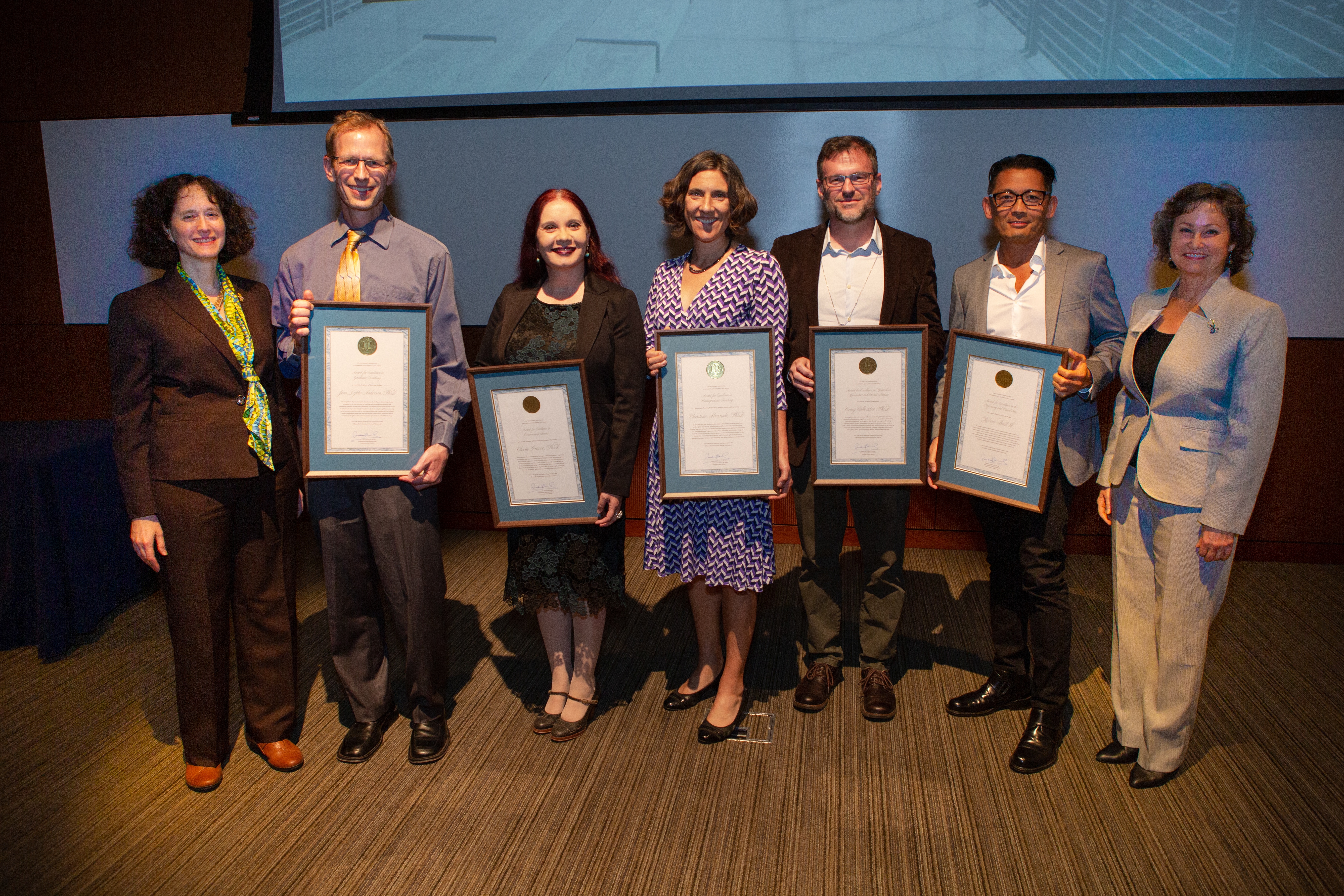 Established in 1974, the Chancellor's Associates Faculty Excellence Awards program celebrates educators who believe in the extraordinary. Our faculty members redefine the concept of "learning," bringing unrivaled commitment, boundless energy, and daring exploration to their roles as leaders on campus and within the community. It is our privilege to honor UC San Diego's brilliant innovators for their outstanding contributions to teaching, research, community service, and the visual and performing arts.
We are pleased to announce the following award recipients for 2019. You can also read more about the 2019 winners on the UCSD news site. 
Excellence in Undergraduate Teaching
Christine Alvarado, PhD, Teaching Professor of Computer Science and Engineering
Department of Computer Science and Engineering
Division of Jacobs School of Engineering
Professor Alvarado is revered as a stellar educator, garnering 95% approval ratings from even her largest classes, and learners repeatedly cite her as their "most influential" instructor. She spearheaded program modernization as chair of the Undergraduate Curriculum Committee, and she currently serves as vice chair for Undergraduate Affairs. A passionate advocate for equity, she won the highest campus award for diversity, in 2016, and she advises two Women in Computing groups. In 2018, she was named a distinguished member of the Association for Computing Machinery, in honor of her Early Research Scholars Program, a groundbreaking apprenticeship initiative emphasizing inclusion.
Excellence in Graduate Teaching
Jens Lykke-Andersen, PhD, Professor of Molecular Biology
Department of Molecular Biology
Division of Biological Sciences
Fueled by intense dedication, Professor Lykke-Andersen is exceptionally engaged as chair of his division's graduate program, advising and teaching first-year coursework for every student. He is an innovator in building interactive educational environments, "flipping" the classroom away from lecture-based instruction to help learners distill complexities and evolve as rigorous scientists. A prominent catalyst for cutting-edge discovery, he has earned numerous accolades honoring his extraordinary depth in RNA biology, including the Pew Scholar Young Investigator Award and the Maximizing Investigators' Research Award, and he has quickly become a powerhouse at UC San Diego, advancing the frontiers of molecular science.
Excellence in Research in Humanities and Social Sciences
Craig Callender, PhD, Professor of Philosophy
Department of Philosophy
Division of Arts and Humanities 
An immensely influential voice in the philosophy of science, Professor Callender is renowned for his interdisciplinary approach to the "problem of time" in relation to quantum theory, relativity, and statistical mechanics. Masterfully tackling this subject in his book What Makes Time Special?, he received the prestigious Lakatos Award in 2018, with commendation for creating "an ambitious and highly original contribution…nothing short of profound." A proponent of socially responsible science, Callender established the Institute for Practical Ethics in 2017, which he now codirects, and he actively fosters diversity on campus through Triton Faculty Firsts and the Summer Program for Women in Philosophy.
Excellence in Research in Science and Engineering
Shirley Meng, PhD, Professor of NanoEngineering and Materials Science 
Department of NanoEngineering
Division of Jacobs School of Engineering
As principal investigator for the Laboratory for Energy Storage and Conversion, Professor Meng is at the forefront of next-generation materials design. Holder of four patents and author of 170+ journal articles, the highly awarded Meng was elected a fellow of the Electrochemical Society in 2018 and appointed inaugural holder of the Zable Endowed Chair in Energy Technologies. She currently leads interdisciplinary microgrid research at the university, as founding director of the Sustainable Power and Energy Center. For nine years, she has also hosted high-school students at laboratory programs presented by the Institute of the Americas, empowering underrepresented learners in the sciences.
Excellence in Community Service
Olivia Graeve, PhD, Professor of Mechanical and Aerospace Engineering
Department of Mechanical and Aerospace Engineering
Division of Jacobs School of Engineering
Professor Graeve is a global dynamo, recognized in the 2017 Forbes "100 Most Powerful Women of Mexico" ranking, for her discerning leadership as founding director of the CaliBaja Center for Resilient Materials and Systems. Her outreach includes developing an ENLACE program and organizing regional conferences for the Society of Hispanic Professional Engineers (SHPE). Delivering two decades of recruitment and retention support, Graeve is considered "THE reason for the existence, execution, and success" of graduate-student participation within SHPE. She also facilitates innovation as director of the Inclusion, Diversity, Excellence, and Achievement Engineering Student Center.
Excellence in Performing and Visual Arts
Robert Brill '87, BA, Professor of Scenic Design 
Department of Theatre
Division of Arts and Humanities 
Receiving two Tony Award nominations has placed Professor Brill in the national spotlight, but his true passion is climbing into the trenches, to enrich learning experiences and mentor emerging visionaries. In 2013, he was appointed artist in residence for La Jolla Playhouse, and since joining the university, he has developed seven world-premiere projects, including an opening-ceremony proposal for the 2019 Special Olympics. Probing legacy and modern engagement, Brill's immersive creative range inspires exploration of cultural intersections, and he has earned an NAACP Theatre Award as well as the Michael Merritt Award for Excellence, for his commitment to diversity and collaboration.
We are pleased to announce the following award recipients for 2018. You can also read more about the winners on the UCSD news site.
Excellence in Undergraduate Teaching
Kate Antonovics, PhD, Associate Teaching Professor of Economics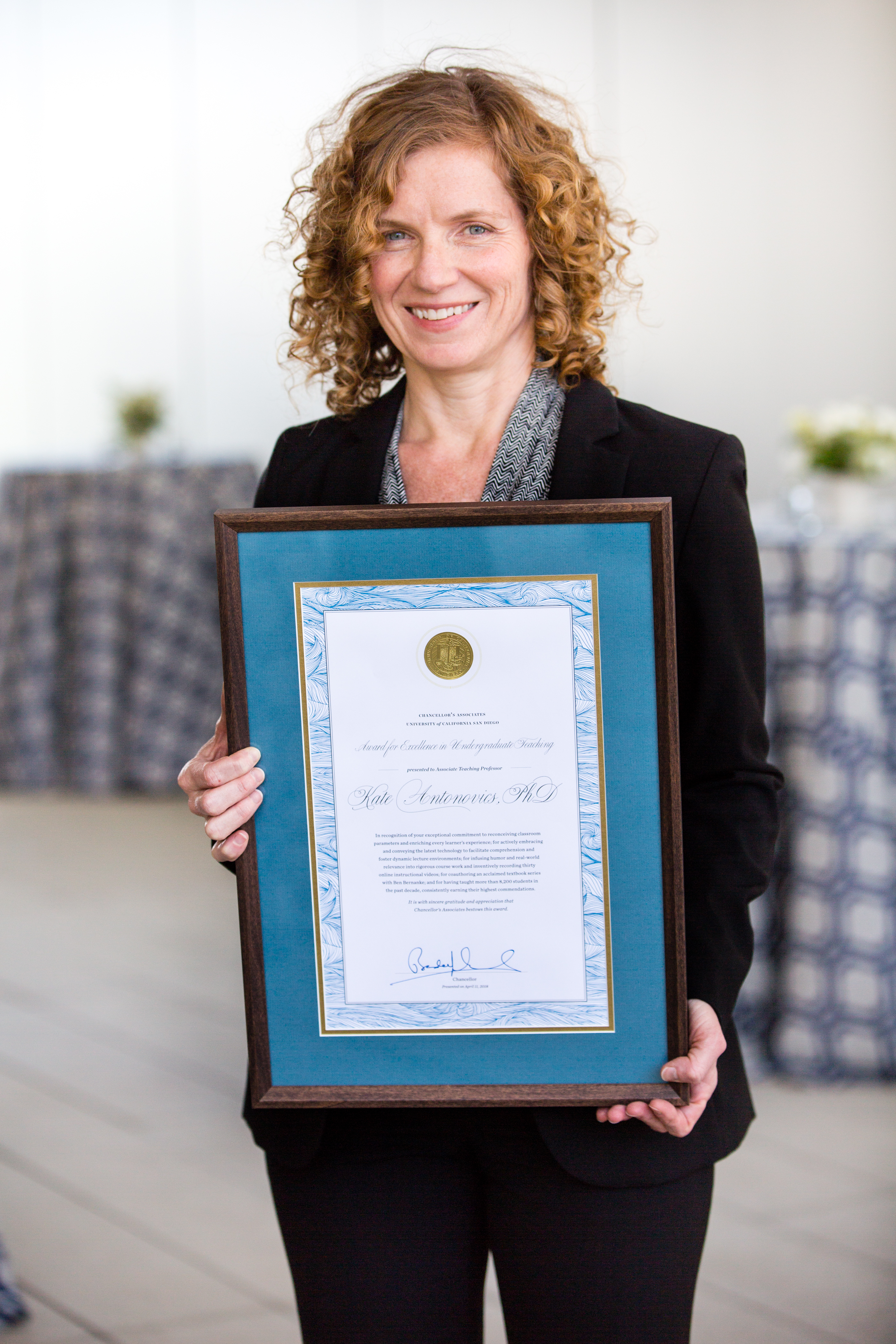 Department of Economics
Division of Social Sciences
Instilling knowledge is a gratifying quest for Dr. Antonovics. She is the rare professor who makes rigorous coursework approachable for every learner, and she embraces technology. Dr. Antonovics employed PC projection in auditoriums as early as 2005, to facilitate group learning, and has used response-system iClickers since 2014, to improve interactions among students, sharing her innovative methods with other professors. She has also recorded thirty humor-infused instructional videos to deliver course content online and coauthored an acclaimed textbook series with Ben Bernanke. Despite substantial class sizes (200+) and challenging material, students have consistently rated Dr. Antonovics "one of the best," offering glowing approval ratings are between 94 and 97 percent.
Excellence in Graduate Teaching
Pamela Radcliff, PhD, Professor of History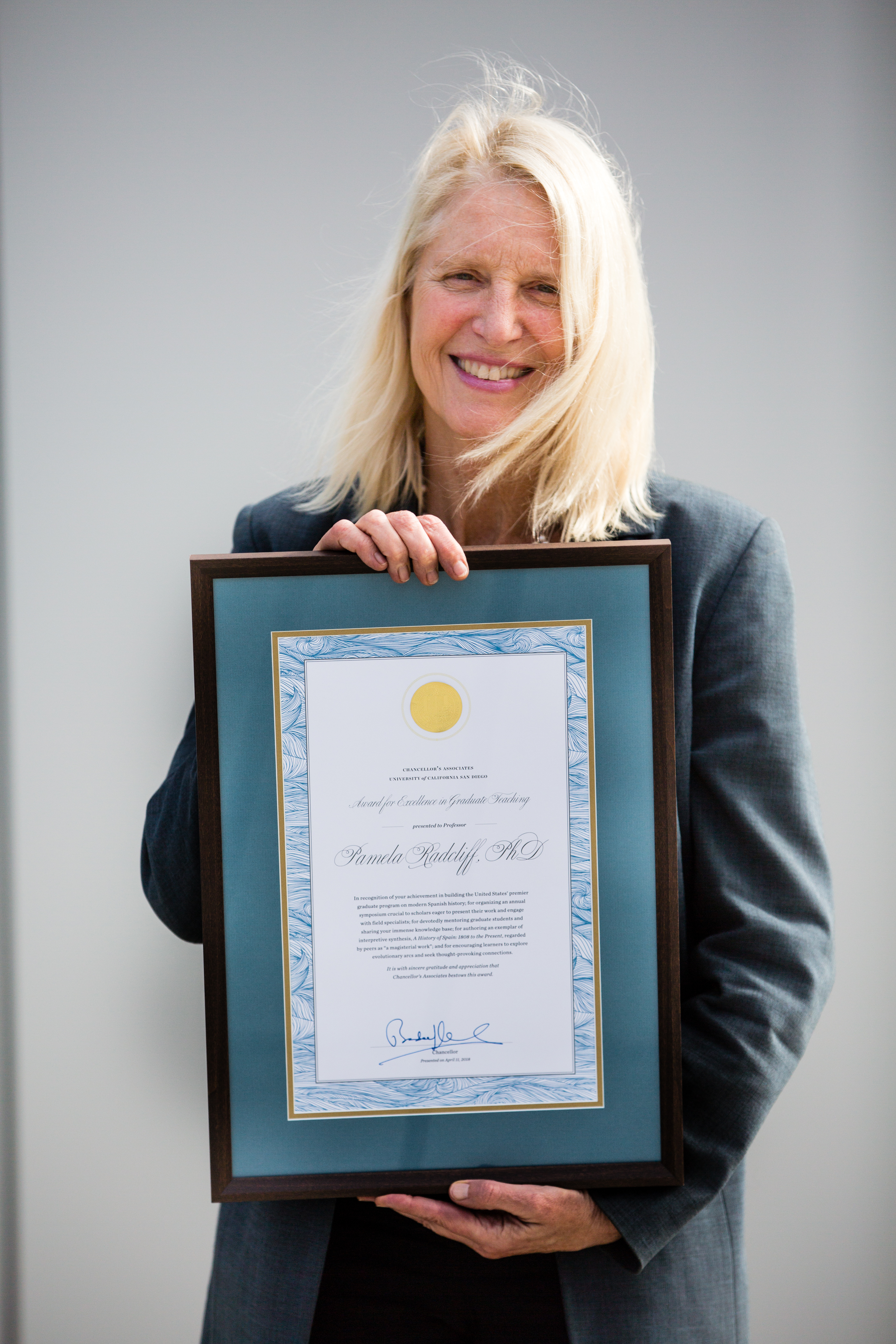 Department of History
Division of Arts and Humanities
Unrivaled in her field, Dr. Radcliff has built the U.S.'s premier graduate program on modern Spanish history, augmenting the exceptional curriculum with research seminars, reading, independent courses, and an annual symposium. She is a superb mentor, known for her careful and caring nature as well as her accessibility, keen guidance, and immense knowledge base. All of her work incorporates masterful interpretive synthesis. Her latest book, A History of Spain: 1808 to the Present, has been hailed by experts as "a magisterial work." She constructs her syllabi to emphasize broader relevance and pairs canonical classics with leading-edge scholarly advancements, encouraging students to explore evolutionary arcs and render insightful new connections.
Excellence in Research in Humanities and Social Sciences
Emilie Hafner-Burton, PhD, Professor of International Justice and Human Rights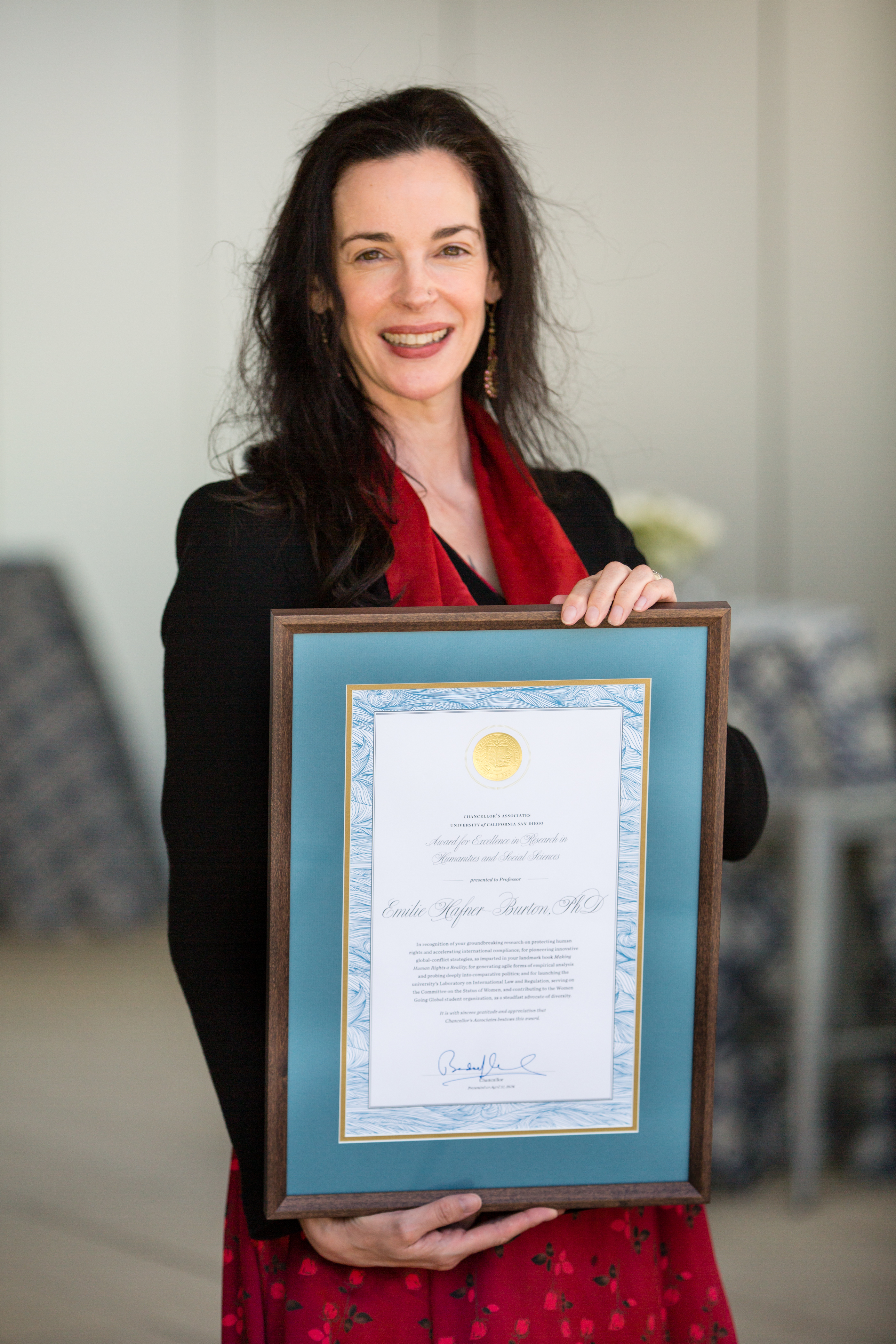 School of Global Policy and Strategy
Dr. Hafner-Burton is a renowned scholar and leading authority on international relations, imparting groundbreaking strategies for human-rights compliance, such as targeted bilateral action by prominent stewards. She has pioneered precise methods of empirical analysis and explored burgeoning cognitive-psychology approaches to global conflict, to drive landmark research on the protection of rights within the complex web of accords and trade agreements. Dr. Hafner-Burton is also a powerful advocate for diversity at UC San Diego, having spearheaded the launch of the Laboratory on International Law and Regulation and contributed to the Status of Women committee and the Women Going Global student organization.
Excellence in Research in Science and Engineering
Kimberly Prather, PhD, Distinguished Professor/Chair of Atmospheric Chemistry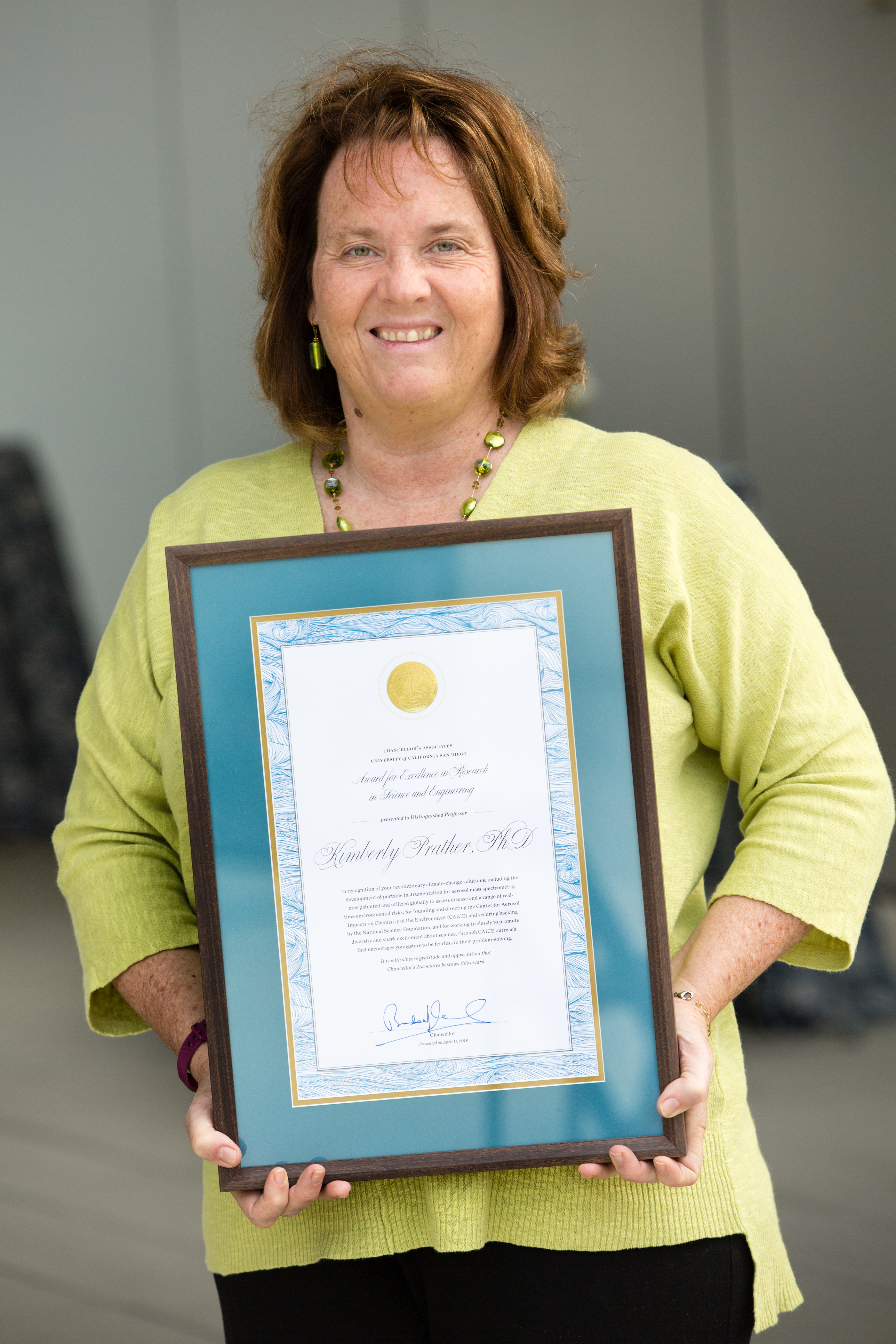 Department of Chemistry and Biochemistry
Division of Physical Sciences
Dr. Prather holds five patents and has piloted revolutionary climate-change solutions, notably developing portable instrumentation for aerosol mass spectrometry, which is now utilized globally to monitor real-time biological threats, detect disease at single-cell level, assess environmental risks, and analyze microbial vectors. She is an unparalleled leader in research collaborations and founding director of the Center for Aerosol Impacts on Chemistry of the Environment (CAICE), the largest federally funded on-site center in UC San Diego's history. She is committed to advancing diversity, sparking excitement about science at local Title I schools, and spurring CAICE outreach that encourages youngsters to be tenacious and fearless in their problem-solving efforts.
Excellence in Community Service
Robert Pomeroy '84, PhD, Lecturer of Chemistry and Biochemistry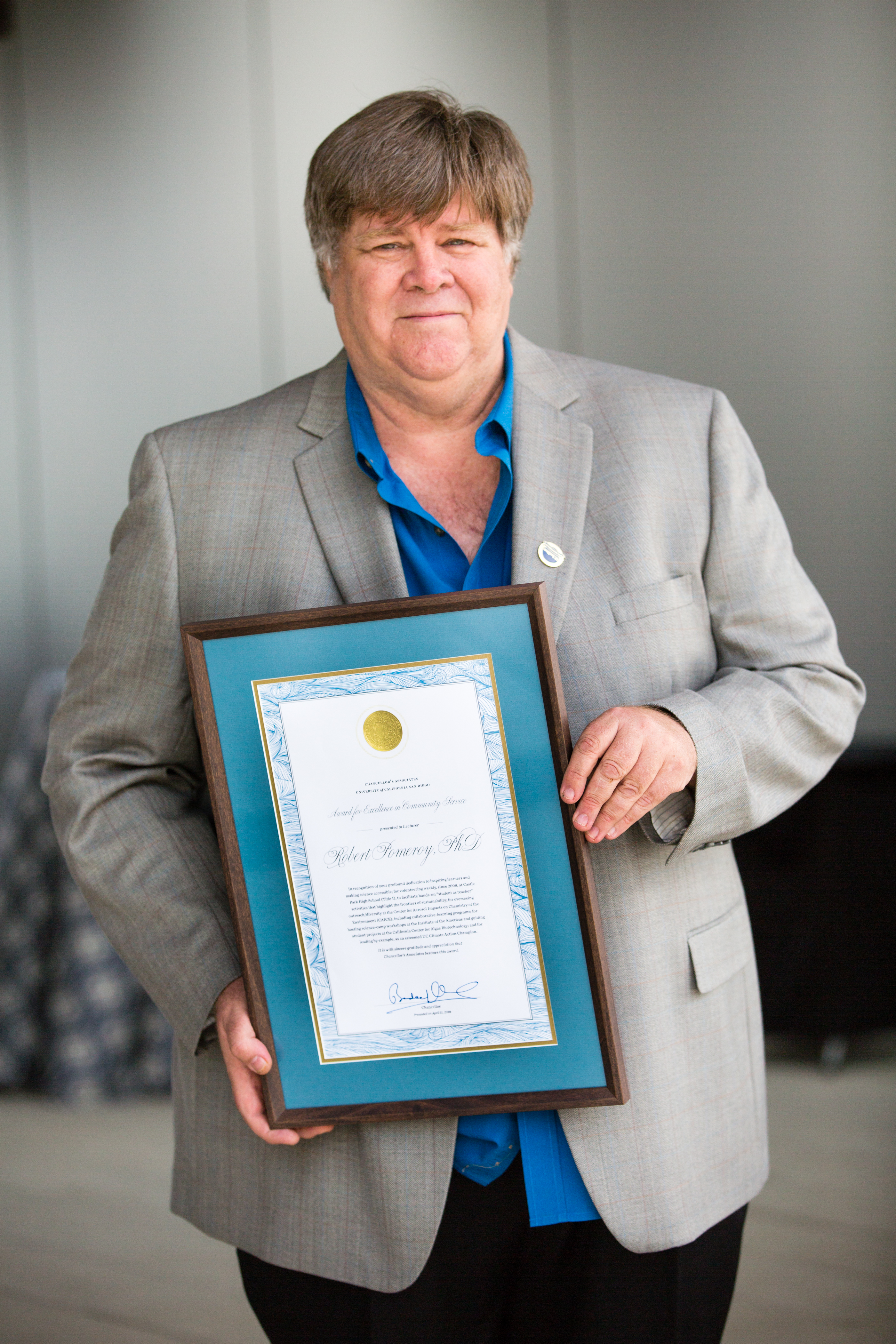 Department of Chemistry and Biochemistry
Division of Physical Sciences
Formulating sustainable materials is an award-winning pursuit for esteemed UC Climate Action Champion Robert Pomeroy. But his true passions lie in inspiring learners to consider science-based careers and cultivating accessibility. For more than a decade, Pomeroy has volunteered weekly at Castle Park High School, fostering hands-on "student as teacher" activities that highlight the latest breakthroughs in chemistry research. He also oversees outreach and diversity at CAICE, hosts science camp workshops for the Institute of the Americas, and guides projects at the California Center for Algae Biotechnology. In addition, he facilitated the One Barrel for Baja initiative, in which university students partnered with Scripps scientists to generate biofuel from algae.
Excellence in Performing and Visual Arts
Ruben Ortiz-Torres, Professor of Visual Arts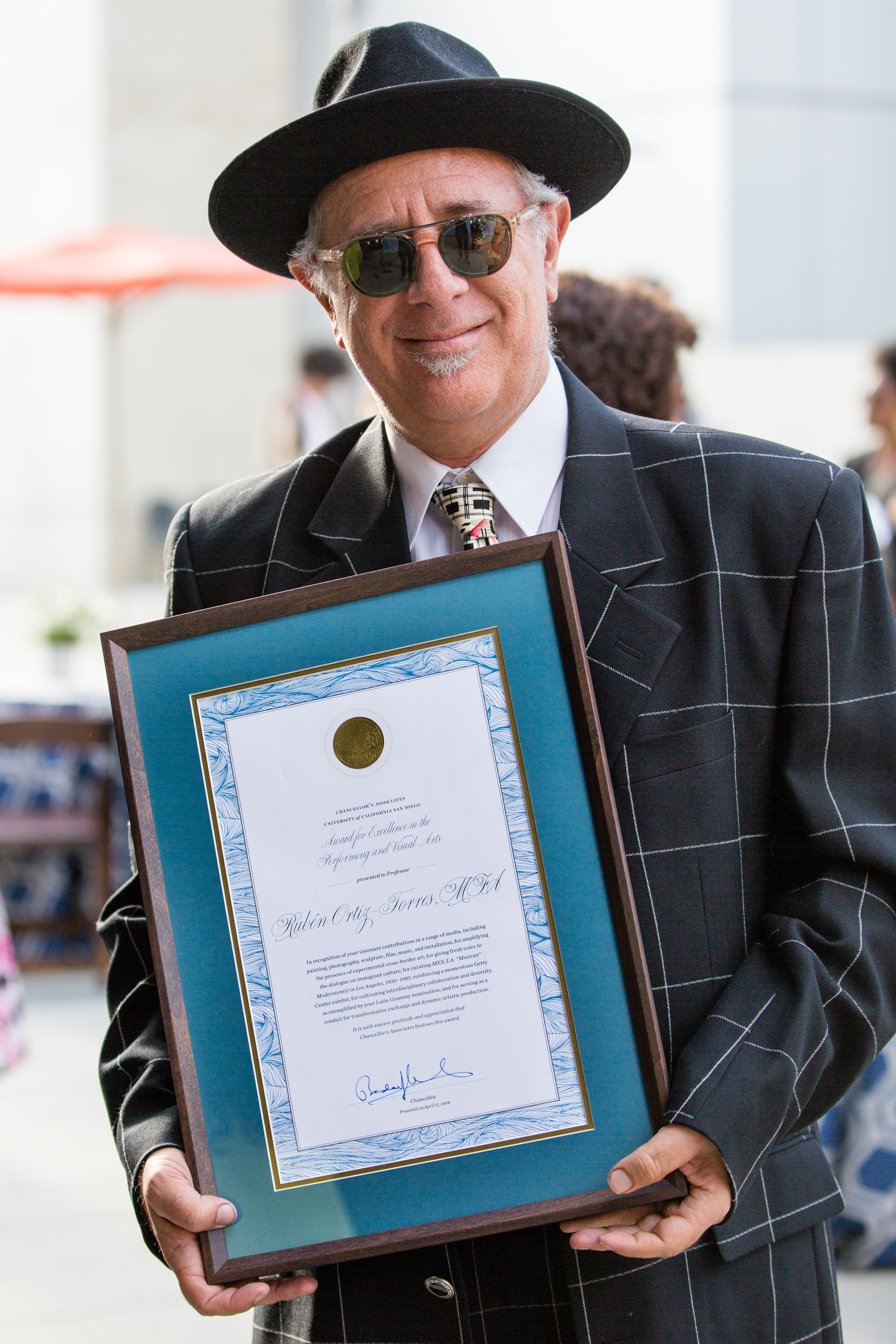 Division of Arts and Humanities
Department of Visual Arts
Professor Ortiz-Torres is lauded for his compelling artistic range and has initiated fresh local / global dialogues with institutions such as the New Museum of Contemporary Art and the Museo Reina Sofía, to advance experimental cross-cultural art. Professor Ortiz-Torres is committed to collaboration, mentorship, and diversity. He curated the visionary exhibition MEX/LA: "Mexican" Modernism(s) in Los Angeles, 1930–1985, using curatorial research-based practice to reinforce the Getty Center's ambitious exploration of Latin American and Latino art, Pacific Standard Time: LA/LA. Ortiz-Torres is a conduit for transformative exchange and dynamic artistic production, creating new points of engagement on immigrant culture and underrepresented content. 


A Look Back: Celebrating Decades of Faculty Excellence
Take a look back at a few of the more than one hundred educators who have been honored with Faculty Excellence Awards, for their diverse contributions to our campus and beyond.


Peter Gourevitch, PhD
Excellence in Research in Humanities and Social Sciences, 2005; Professor Emeritus, Political Science
Peter Gourevitch was founding dean of the School of International Relations and Pacific Studies and an influential force behind the establishment of The Preuss School UCSD. He also authored Politics in Hard Times, which was translated into Spanish, Italian, and Chinese. The key to excellence as an educator and researcher, Gourevitch says, is "enjoying the pursuit of ideas as you interact with colleagues, students, and people outside the university."


Robert N. Hamburger, MD
Excellence in Research in Science and Engineering, 1975; Professor Emeritus, Pediatrics, UC San Diego School of Medicine
Translational scientist Robert Hamburger was a founding assistant dean at the School of Medicine and served as the first chief of the Division of Pediatric Immunology and Allergy, diligently promoting universal access to medical care throughout his career. Also a lover of music, he helped organize one of the first classical-music concerts at UC San Diego, and he and his wife, Sonia, established an endowment for the ArtPower Chamber Music Series.


Naomi Iizuka, MFA '96
Excellence in Performing and Visual Arts, 2010 (first recipient); Professor of Theatre and Dance
Naomi Iizuka is a celebrated playwright, whose unique vision and multicultural worldview captivates audiences across the nation and continues to attract top graduate students to the Department of Theatre and Dance. "When they accepted me here," Iizuka told Triton magazine, "they said, 'You write plays like no other plays we've ever seen. We are really excited by your voice.' Innovation and experimentation are integral to the arts curriculum at UC San Diego. Your art can take any shape."


Charles Nager, MD '82
Excellence in Undergraduate Teaching, 1992; Chair of Obstetrics, Gynecology, and Reproductive Services Director of Urogynecology and Reconstructive Pelvic Surgery
Named a San Diego Magazine "Top Doc" for eleven consecutive years and recognized as a leading physician by U.S. News & World Report, Charles Nager is a nationally recognized standout in his field. In 2013, he also served as president of the American Urogynecologic Society. To those looking to achieve their own levels of excellence as educators and researchers, Nager says, "Be curious, be skeptical, insist on data, and always assume there is a better way to do things."


Carol A. Padden, MA '80, PhD '83
Excellence in Community Service, 1989; Professor of Communication (Dean of Social Sciences)
Carol Padden has dedicated her career to studying sign languages around the world. In 2010, she received a MacArthur "genius grant," in recognition of her groundbreaking work and she continues to "explore ways in which cultural solutions to human needs — to communicate, to create society, and to live among others — bring a different dimension to understanding diversity of humans." According to her, the key to a fulfilling career is, "In everything I do, I try always to make the work interesting. I think of questions that take me outside what I already know and into something new and unexplored."


Paul Pickowicz, PhD
Excellence in Graduate Teaching, 2003; Distinguished Professor of History and Chinese Studies
Pickowicz helped create one of the nation's leading graduate programs in modern and contemporary Chinese history, and he subsequently became the inaugural endowed chair holder in his department. In 2006, Dr. Pickowicz told @UCSD magazine, "Some people ask why Chinese students come here, and the answer is because the intellectual climate is much more open. They bring their expertise back to China and have had an impact on Chinese academics. It's a two-way street and a fantastic relationship. China is changing, it's more open, and these students are pushing the envelope."